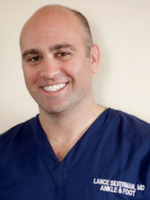 Specialty:
Orthopedic Surgery
Address:
6600 France Ave S, #605
Edina, Minnesota 55435
Dr. Silverman is a skilled orthopedic foot and ankle surgeon practicing in the state of Minnesota. Since 2004 he has owned and operated Silverman Ankle & Foot – based out of Edina. He received his medical degree in 1996 from Baylor College of Medicine in Houston, TX, and completed his surgical internship and residency in Orthopaedic Surgery at Henry Ford Hospital in Detroit, MI. Dr. Silverman is a board-certified member of the American Academy of Orthopaedic Surgeons and the American Orthopaedic Foot and Ankle Society. He is also an active supporter of the Twin Cities Maimonides Society and chairs the state branch of Our Hearts to Your Soles, a national nonprofit organization that provides free medical foot screening examinations and shoes to the less fortunate people of Minnesota.
Dr. Silverman is a prolific blogger – covering topics relating to ankle and foot conditions on the Minnesota Ankle & Foot Blog.